A family athletics initiative founded by Paula Radcliffe has announced a major partnership with the cancer charity MOVE. Launched at the 2019 Durham City Run Festival, Paula's Families on Track, powered by Atom Bank, inspires family groups to get active together by completing 10K in a relay event. Families on Track will return to Durham this weekend and a family affected by cancer and representing MOVE will take part, alongside Paula's daughter Isla, who was given the all clear earlier this year after treatment for a rare form of the disease.
Paula's Families on Track made its global debut at the 2019 Durham City Run Festival and Paula took part in the event with her father Peter, daughter Isla and son Raphael. In 2020, they discovered that  Isla (who was 13 at the time) had a rare form of cancer, but following specialist treatment, she was given the all clear and is now running again. It was a positive outcome after a very difficult time for the Radcliffe family, after the death of Peter just before Isla's diagnosis. In his memory, Paula, Isla and Raphael will take part as 'Pete's Butterflies' at Families on Track in Durham on Saturday.
The MOVE charity was founded by international runner Gemma Hillier-Moses, who was diagnosed with cancer at the age of 24 in 2012. MOVE coordinates the community-based '5K Your Way' initiative to encourage those living with and beyond cancer, along with families, friends and those working in cancer services, to walk, jog, run, cheer or volunteer at a local 5K parkrun event.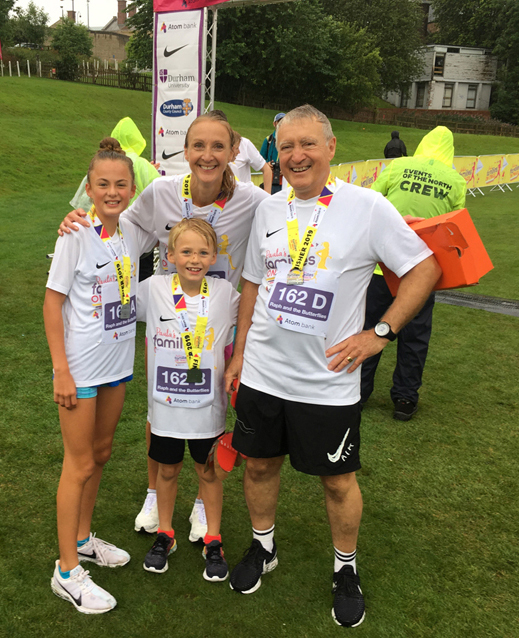 Earlier this year, Isla and Paula spoke with Gemma about their experiences on The MOVE Against Cancer podcast and that has led to the partnership between the charity and Paula's Families on Track. Together, they will promote the benefits of an active lifestyle to cope with cancer, supporting people who are living with, and beyond, cancer, through the power of movement.
Runner Liz Fell was listening to the MOVE podcast interview and it had a big impact, as her son Isaac has also received treatment for cancer. Liz got in touch with the MOVE team and as a result the Fell family will be representing the charity at Families on Track in Durham on Saturday.
Liz Fell comments: "I laughed and wept and smiled at the familiarity of the MOVE podcast. So much was so similar to our journey. My son Isaac was diagnosed with acute lymphoblastic leukaemia in Feb 2016 and finished treatment in May 2019. I reckon I could hang out with Isla and Paula for at least a week swapping stories and having things in common. Running was definitely a coping mechanism for us too and we're really excited about teaming up to be part of Paula's Families on Track at the Durham City Run Festival!"
Paula Radcliffe adds: "Sharing Isla's story on the MOVE podcast was an emotional experience for both of us. We're so glad that it resonated with listeners like Liz and we're really looking forward to meeting her, Isaac and their family – we have so much to chat about! Stories such as Isaac's and Isla's reinforce why the work of MOVE is so important and how running can play such a big role in dealing with the trauma and challenges of a cancer diagnosis. It's the ideal charity partner for Families on Track."
Organised by Events of the North, in partnership with Durham County Council and Durham University, the Durham City Run Festival will be held from 15-17 July. Over three days, the festival will bring running events to the heart of the city, including the Prince Bishops Durham City 5K and 10K, Run Like a Legend Mile, and Paula Radcliffe's Families on Track. Paula's Families on Track will be the finale of the festival on Saturday 17 July, based at Durham Racecourse. Family teams of between three and five will complete a distance of 10K together in a relay format on a safe, enclosed course, running laps of either 1,000m, 500m or 250m. The last few places on the event are available at http://durhamcityrunfestival.com/events/paulas-families-on-track. To find out more about the work of MOVE, visit https://5kyourway.org.