Nicole Burlinson, International, Engagement & Careers Administrator in the Business School recently participated in Durham City Run Festival's 5K, placing first in the women's category with a time of 18 mins, 9 secs. She explains her running background and how she came to enter the 5K.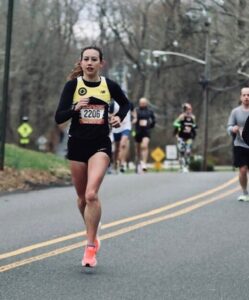 Running history
I've been a runner for most of my life – since first being picked for the cross country team in Year 6. I went on to compete for my school (Carmel College), club (Darlington Harriers), town (Darlington), county (Durham) and eventually accepted a full scholarship to run cross country / track and field in the USA. I was able to compete at a national level in the States and placed 3rd in the nation at the National Collegiate Athletic Association Division II (NCAA DII) in 2014, participating in the 800m. Later that year I took part in the British Championships in Birmingham.
Post university I have raced very intermittently. I joined a club in the US, Garden State Track Club based in New Jersey, and was able to compete for them on a few occasions. I represented the Club at Club Cross Country Nationals for three years in a row and at the Milrose Games (any track and field junkies out there will appreciate how much of a great opportunity this is!).
During the above career I had two children and continued to run throughout, though I have not been able to race quite as much as I'd like in recent years. The Durham City Run this year was my first race in about a year and a half.
Typical running schedule
For as long as I can remember, I've run most days. Not always necessarily with a plan, but it has always played a massive role in my life. My weekly milage usually exists in a range, from 30 miles a week, up to 100 on my highest ever mileage week. More recently I've been in the 45-55 miles/week range. I just love getting outside in nature and exploring everything around me – it never gets old!
At some stage, I got tired of running without a plan, or a goal, or something to work towards so I decided I would start training for a race and follow a training plan. I found a nine-week training plan and a goal race – the Darlington 10K. And so since 5 June I've been on a mission to train for this race (follow my running journey/diary on my running Instagram @nicwentrunning).
After the Darlington 10K (which takes place on 6 August) I hope to take a week or so to review and reset and then find a half marathon to train for in the autumn. After that, I imagine I'll have a full marathon on my mind, but who knows – I think my family will be hoping I don't take an interest in the ultra distances.
I also play women's football for my local team, so that is another element of fitness I love (while being very careful with my knees!). I'm also interested in getting back into being a running coach, something I did in the USA – so if anyone is looking for a coach for all levels of runners, please get in touch!
Enter Durham City Run 5K
I'd heard talk around the office of the Durham City Run but hadn't really looked too deeply into it as I was already in training for the Darlington 10K, so that's where my focus was. I also knew, having commuted through Durham to where I work at the Business School, that the course would be beautiful, but unforgivingly hilly and not exactly conducive to the goal time I was hoping for!
As the date of the Durham City Run approached, I was surrounded by more talk, and more marketing for the event. So one day I looked at the website to see what it was all about. That's when I noticed there was also a 5K! The Tuesday before the race (the last possible date to sign up) I finally committed.
Going in I wasn't entirely sure what sort of time I'd be able to produce. I'd looked at results from previous years and knew it was within a range I had achieved in the past, but I had absolutely no clue how this was going to go. I just knew I wanted to be competitive and give it everything I had. I was shocked to come in as the first woman, but very pleased with the result overall.
In review
I was really impressed with the event as a whole – the organisation, the set-up of the course, the number of people registered to participate, the allocated areas for bag drop / number pick-up, and the assistance of the volunteers. Getting to the event was easy and I REALLY appreciated the willingness of local businesses to shelter us from the rain temporarily as we waited for the start.
Despite the weather, the scenery around Durham was still as lovely as ever and the course was lined with enthusiastic spectators who brought a kind of energy I think we all needed! The prizes I received were extremely generous. I won a gorgeous framed map of the course, a medal, a pair of the latest carbon plated shoes, £50 prize money, a family pass to Wild Goat Festival in August, as well as all the fantastic goodies in the finishers bag (t-shirt, chocolate, electrolyte drink, massage coupons, and more!).
One additional bonus prize I received was for being the 'Queen of the Hill'. This was a mini competition within the race that the announcers shared with us on the starting line – they would time the final 400m for everyone (up the hill to the Castle) and the fastest man and woman on this section would get an additional prize. I unexpectedly won 'Queen of the Hill' and, for my efforts, received a bottle of gin from Durham Gin! I'm not sure which I'm more pleased about – the gin, or that title (which I might add to my LinkedIn profile).
I'm very grateful to the people, business and organisations who played a part in putting the event together. I'm so pleased I decided to take part. I think Durham City Run is a wonderful event for the community with people raising money for fantastic causes.
Next year, I promise I'll be the first person to register!